David Davis – EPK
"This night was as much fun as you can have without 'getting into trouble'. David & The Boys are just a treat to hang out with… true gentlemen with a great sense of humor. David Davis is a very real hidden treasure in the world of music today. Give his new album Didn't He Ramble: Songs of Charlie Poole a good listen. This is a special album that will stand the test of time."
— Lynda Weingartz, CEO – AirPlay Direct
Downloadables
High Res Publicity Photos
Photo Credit – Amy Richmond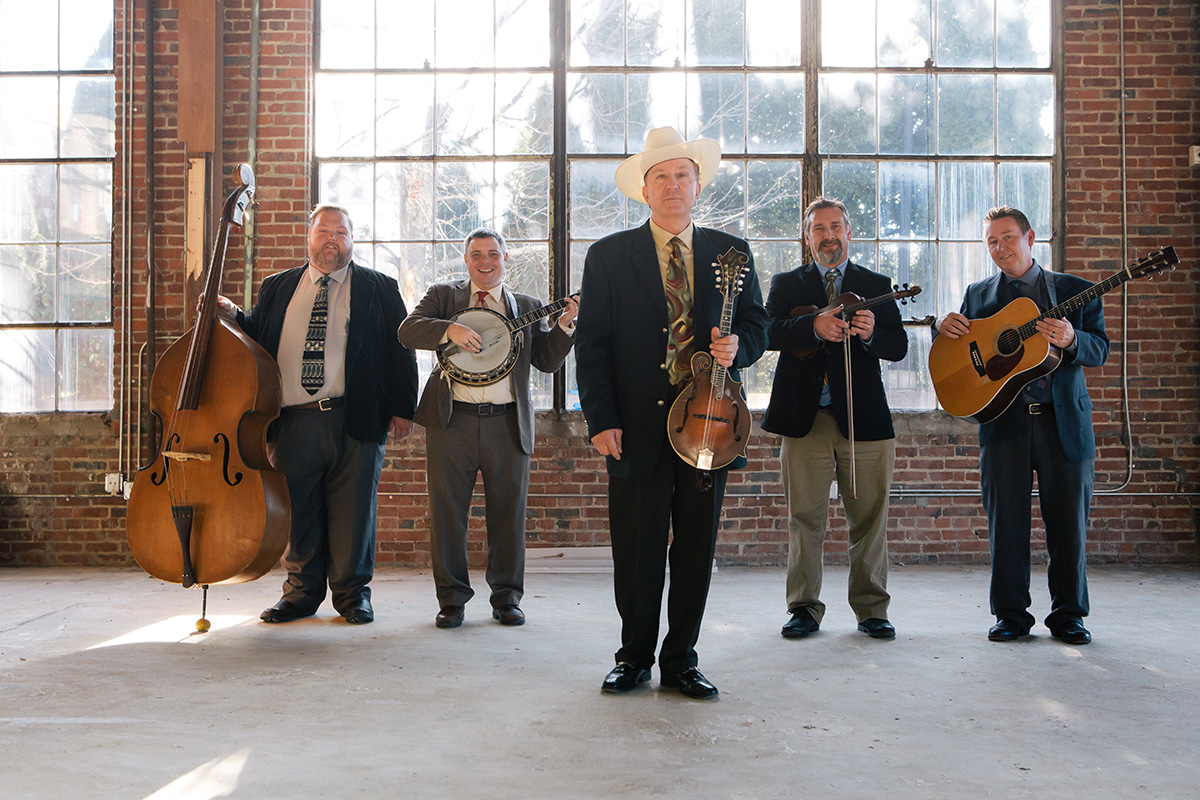 NOTE: To download the image, click on the one you want, it will open in a new tab/window, from there you can right click (Ctrl + Click on mac) to save. The above images should be sufficient size for most print media; however, higher resolution versions as well as more options available by clicking the button below.
"Ultimately, there's no greater proof of Poole's relevance to modern music than the fact that Bob Dylan cited him in his acceptance speech when awarded his Nobel Prize for Literature. Loudon Wainwright famously covered Poole on his own album High, Wide and Handsome. Yet there's little doubt that Didn't He Ramble provides the most significant homage to him yet. As Davis himself remarks in the liner notes, there's nothing that says one can't stay true to the original incarnation and not keep current at the same time. With this particularly inspired effort, he's managed to do both."  –- Lee Zimmerman, Bluegrass Today
"Far and away, the best project I've heard from these guys. Sonically beautiful, but not so polished the edge is gone. Feels like the perfect balance to me. If they don't like this, well, they don't like bluegrass."  –Terry Herd, Bluegrass Today
"The new Carlie Poole tribute is nothing short of a masterpiece! As an old time and a bluegrass fan, I must say I've not ever heard a better and more sensitive bluegrass treatment of that music, ever."  –Carl Goldstein, WVUD and Delaware Valley Bluegrass Festival
"Didn't He Ramble: Songs of Charlie Poole is more than a welcome return; this album allows the listener to travel back in time and witness bluegrass' evolution from old-timey string band and blues foundations to the music we embrace today. More than academic exercise, Didn't He Ramble: Songs of Charlie Poole is an exemplary example of modern, traditional bluegrass."  –Donald Teplyske, Fervor Coulee
"This night was as much fun as you can have without 'getting into trouble'. David & The Boys are just a treat to hang out with… true gentlemen with a great sense of humor. David Davis is a very real hidden treasure in the world of music today. Give his new album Didn't He Ramble: Songs of Charlie Poole a good listen. This is a special album that will stand the test of time."  — Lynda Weingartz, CEO – AirPlay Direct
"I was knocked by this release. …a breath of fresh air"  — Allen Larman – Folkscene – KPFK, Studio City, CA
David Davis and the Warrior River Boys have long been recognized as modern leaders in traditional BlueGrass, but on their latest release "Didn't He Ramble" : Songs of Charlie Poole, they throw genre boundaries aside by delving deeper into the roots of acoustic music. They have produced a masterful and exciting collection of songs originally recorded in the 1920's by the legendary Charlie Poole and His North Carolina Ramblers, a generation before Bill Monroe is credited with founding Blue Grass music. "Our intentions was to evolve the songs, yet leave the strength and essence of the original feel as our foundation and build on that," explains Davis.
 "Didn't He Ramble" is eagerly anticipated in Bluegrass circles, as well as more widely among  fans of folk and acoustic music. Co-producer David Davis is leading the charge. He is a veteran picker appearing on numerous classic Bluegrass recordings and a recipient of countless awards in Bluegrass and Country Music.
Being that Poole and his music are the subject of such admiration, this is a musical repertoire some would find daunting to delve into with the Warrior River Boys energy, commitment and pure Bluegrass spirit. Davis' own deep musical roots played a part in taking on this project, with his uncle Cleo having been the original Blue Grass Boy with Bill Monroe.
He grew up hearing bluegrass and early country music at his father's knee. From those early influences in rural Alabama, Davis went on to sing with his dad, everything from Monroe Brothers, the Blue Sky Boys, to Cowboy Copas, and Ernest Tubb. At the impressionable age of twelve, with his family, he first heard Bill Monroe play live and his life was destined never to be the same.
Bluegrass music has been Davis' lifetime calling, and he brings the same intensity to interpreting Charlie Poole material as he does to the world of traditional BlueGrass.
David Davis joined Garry Thurmond and the Warrior River Boys in 1982 at the age of twenty one and by late 1984 accepted the role of bandleader. Since then,  he and the band have appeared in forty- six states, all Canadian Provinces and the Bahamas.
In 2010, Davis was inducted into the Alabama Bluegrass Music Hall of Fame. In 2014, he was inducted into The National Old-Time Country Music Hall of Fame and was the recipient of the National Old-time Country  Music Association's Lifetime Achievement Award in Music in 2016.
Contact David Davis & The Warrior River Boys
Booking
Bluegrass / Folk / Roots / Americana
FLi Artists
Matt Greenhill
310- 451- 0767
FLi Artists 
PO Box 7003
Santa Monica, CA. 90406-7003 USA